Click on the map for directions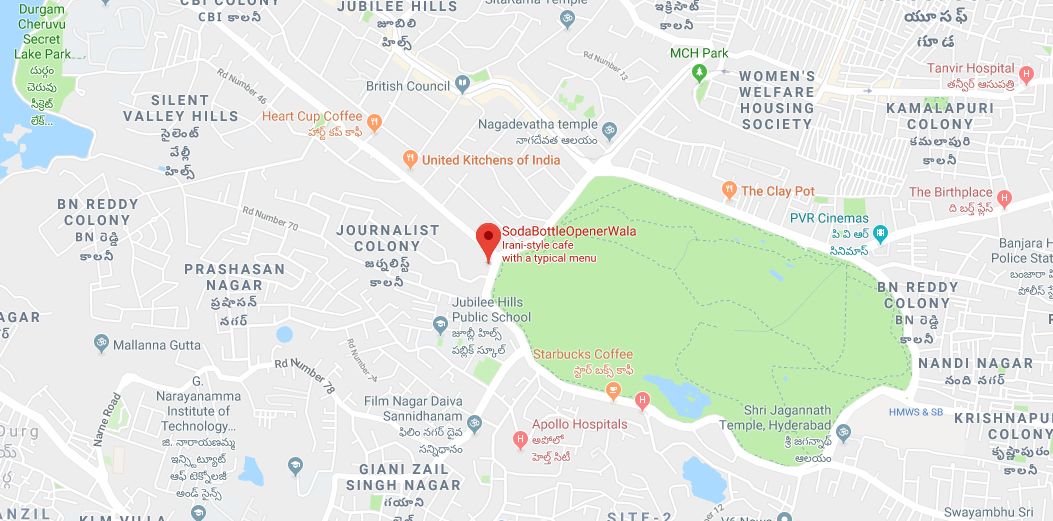 We're a casual all-day Café serving Bombay and Parsi food. We've a full bar setup and the signature cocktails are a must try. We have no dress code and are children and vegetarian friendly. The outlet is located in the prime area of Jubilee Hills on Road No 1, next to HDFC Bank.
It seats 65 people and opens for lunch 1130 am onwards everyday. We usually don't take reservations unless it's a special occasion and that too before 1pm for lunch and before 830pm for dinner. It's best to speak to the manager if you're planning a special occasion (we offer complimentary shots and a cake for guests who celebrate their B'days and Anniversaries with us).
We accept Cash, Master, Visa, Amex and PayTm.
It's our mission to uphold the dying legacy of India's Irani Cafés. Hence, at SodaBottleOpenerWala Hyderabad, part of our menu includes classic dishes from Hyderabad's very own Irani Cafés alongside our regular Bombay and Parsi offerings. Our Haleem has won many awards and is available throughout the year. Our Biryani is one of the best in the city.
We don't serve any Pork or Beef products in our menu and make our own mutton mince in the kitchen. Our Chefs and Mixologists ensure that best Food Safety practices are properly adhered to, at all times. If you have any sort of food allergy or are Vegan or Jain, please get in touch with the manager for options in the menu for you.
You can also order get our food delivered to your office and home through our delivery partners Zomato and Swiggy. Please check their app to see availability of delivery in your area and the items that are available for delivery.
We also do full service catering for corporate and social functions. Our team would be happy to customise menus as per your requirement.
Timing – Monday 1130 am to 1130 pm
Tuesday – 1130 am to 1130 pm
Wednesday – 1130 am to 1230 midnight
Thursday – 1130 am to 1230 midnight
Friday – 1130 am to 1230 midnight
Saturday – 1130 am to 1230 midnight
Sunday – 1130 am to 12 midnight
Address – Unit 4, Niharika Jubilee One, Road Number 1, Jubilee Hills, Hyderabad, Telangana 500033. 
Phone +91 9849955800
Meal For One – Approx ₹500 (without alcohol).
Not To Be Missed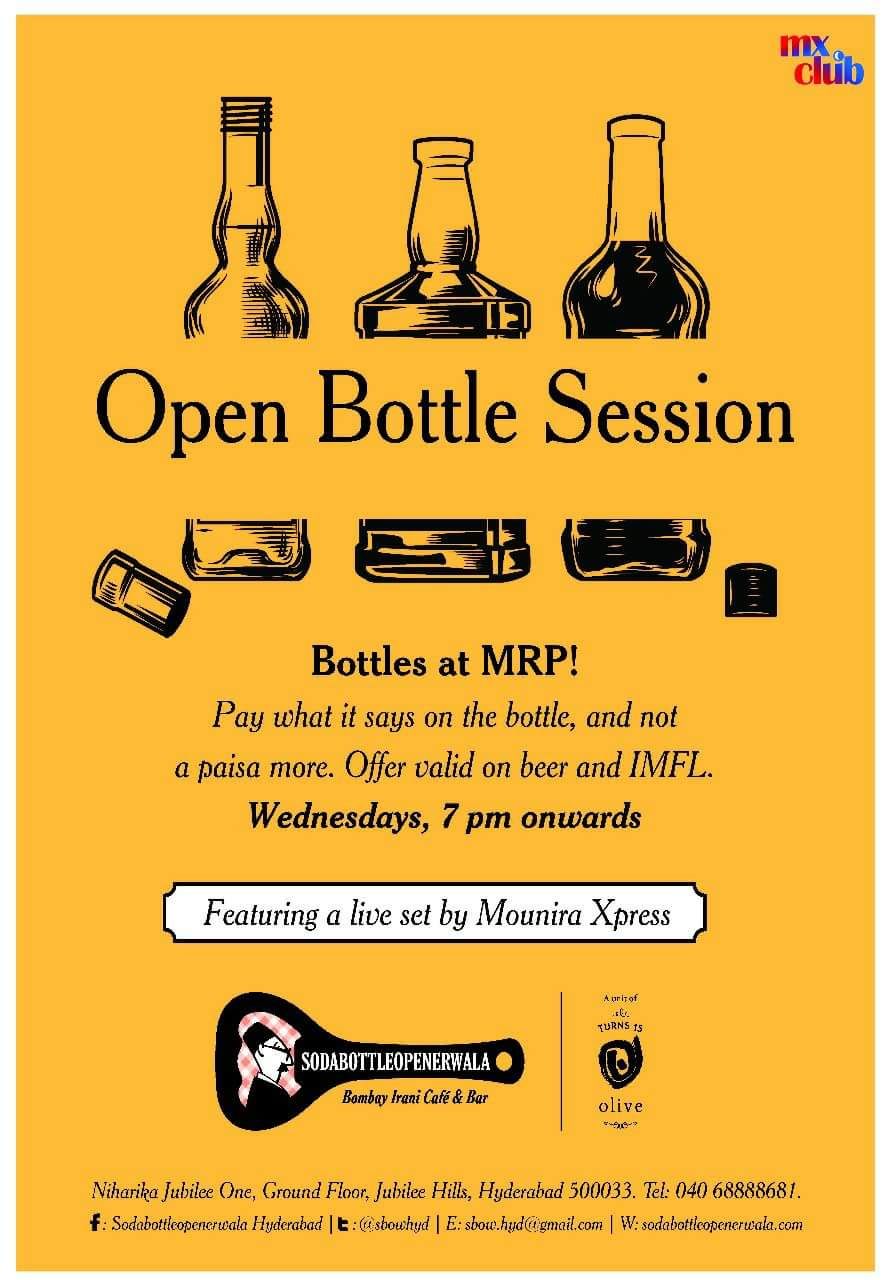 Wednesday is MRP Night at SodaBottleOpenerWala Hyderabad. The highlight of the evening is Mounira Express, a live band playing awesome English and Hindi Retro numbers. This's a popular night in Hyderabad and its best to come early for a table. The other highlight is the MRP menu for drinks.
Timing – 9 pm onwards every Wednesday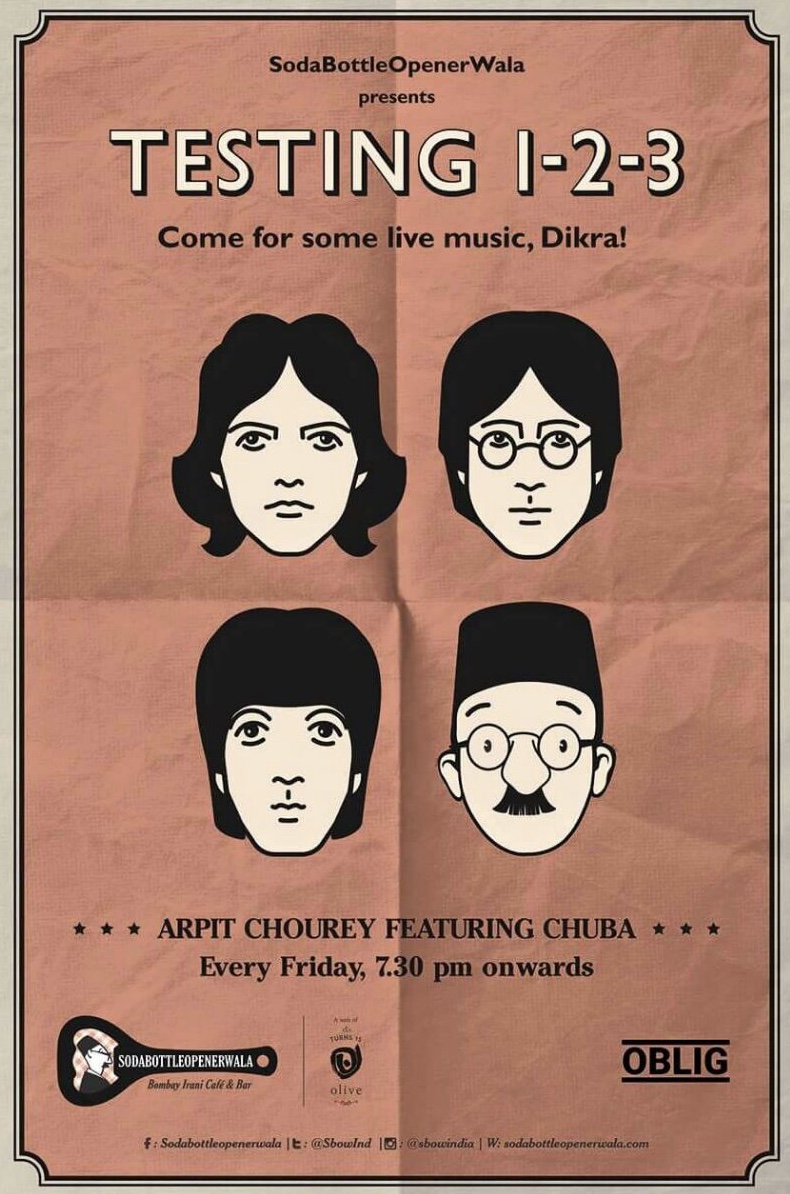 Arpit Chourey is one of Hyderabad's better known singers and he's does a live set with nostalgic Hindi Retro numbers
Timing – 830 pm onwards every Friday